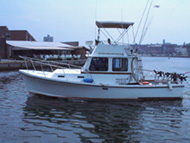 Oswego Harbor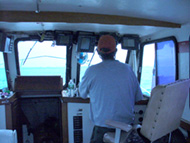 Finding the best spots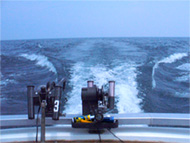 A short ride to great fishing
THE DIXIE DANDY

Lake Ontario is big, beautiful and can be very demanding with regard to boating characteristics. A good fishing trip starts with a quality fishing vessel such as our custom built sportfisher.
The Dixie Dandy is a 31' fishing machine built around a semi displacement hull design originally used for commercial and offshore sportfishing in the North Atlantic. The short chop similarity between Lake Ontario and the ocean waters off the New England coast make the hull design of the Dixie Dandy well suited for working Great Lakes waters, especially on choppy days.
Our customers know that our vessel is equally at home as a downrigger equipped trolling platform as well as a fast yet safe and secure rough water runner. In her class she is highly regarded and generally unsurpassed in her seakeeping abilities.
The Dixie Dandy features:
31.5' Semi displacement hull design

12' beam
Flybridge-2 Helm stations

Stand up Marine Head

Comfortable weather protected main cabin - with dinette

Over 100 sq.ft. of rear cockpit fishing area. To make for plenty of fishing room

Twin engine inboard power- Total 640hp - She can get up and go. (Note: gasoline powered, no diesel smoke/smell)

Below deck automatic fire control system.
US Coast Guard inspected annually